Meet Our Team
The Westin Cleveland Downtown redefines efficient service with an effortless style and gracious attitude that ensures a truly unforgettable experience. Learn more about our executive team:
Bob Megazzini
General Manager
Bob Megazzini has an accomplished background in the hotel industry and brings more than 30 years of management leadership. Previously, he held positions as General Manager of the Marcus Hotels and Resorts property, The Cornhusker Marriott, and at multiple property locations with Marriott International, including the Cleveland Marriott Downtown, Livonia Marriott and Marriott's Griffin Gate Resort.
Megazzini's career has been distinguished by exemplary skills in owner and asset manager relationships, strategic revenue growth, profit maximization and strong associate engagement. He has been recognized for community and civic leadership and earned accolades including: JW Marriott Eagle Leadership Award, Ohio Lodging Association GM of the Year Cleveland, Ohio Lodging Association GM of the Year Ohio, Marriott Business Council Leadership Award and Financial Leadership Award Marriott Western Region. He sits on the Executive Committee of Cleveland Convention and Visitors Bureau Board of Directors and was appointed leader of the Sales Committee in 2012.
Megazzini graduated from the University of Massachusetts at Amherst with Bachelor Degree of Science in Hotel, Restaurant and Travel Administration. Community involvement includes: Marriott's Business Council Guidance Team Member, Board Member Cleveland Junior Achievement, Executive Committee Member Positively Cleveland Board, Advisory Member Cleveland Tourism First Impression Committee and Children's Miracle Network Advisory Council.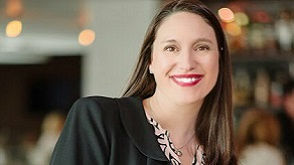 Karen Troyer
Director of Sales and Marketing
Karen Troyer is the Director of Sales and Marketing at The Westin Cleveland Downtown, where she is responsible for overseeing the sales and marketing programs, ensuring that action plans are carried out and that goals are obtained. Troyer has an accomplished background in the hotel industry and brings years of experience to the newly opened hotel.
Prior to joining The Westin Cleveland Downtown in 2014, Troyer served as Director of Sales for The Sheraton Cleveland Airport for two years where she strategically realigned the sales and events team and also created and introduced a sales call processing program.
Troyer started her hospitality career as a Sales Manager for Residence Inn by Marriott and was quickly promoted to Director of Sales. As a result of her management skills, Troyer led the sales team that was awarded Marriott's 2005 South Central Region Extended-Stay Sales Team of the Year. Throughout Troyer's nine years representing Marriott, she led additional award-winning hospitality sales teams and exceeded sales and marketing goals in every position she held within the company. While employed by Marriott, Troyer earned accolades including: Chairman's Circle status in 2011 and one of Marriott's highest honors, the 2010 Leadership Excellence Award, for her outstanding efforts, services and contributions that exceeded the leadership team's and client expectations in her role as Account Executive. She also was named a Ritz-Carlton 5-Star Leader of the Quarter in 2006 while serving as Group Sales Manager at The Ritz-Carlton Cleveland.
Troyer graduated Magna Cum Laude from the University of Pittsburgh with a Bachelor Science in Psychology.